Health workers to be awarded
President Shavkat Mirziyoyev is chairing a videoconference at this moment. The course of the country's response to the pandemic was separately touched upon at the beginning of the event.
In particular, it was noted that the number of COVID-19 cases exceeded 18.7 thousand, and the situation remains serious.
– The number of patients in serious condition is growing, – said the Head of the state. – Pneumonia is increasing together with coronavirus cases. Over the past 10 days, 4 conferences were held, khokims, ministers and other responsible managers were given appropriate instructions to create additional medical facilities, organize systemic treatment of asymptomatic patients at home, provide them with necessary medicines and food, as well as improve the ambulance system. Today we will hear their reports.
Speaking about carried out activities, Shavkat Mirziyoyev noted that in recent days, 46.5 thousand additional beds have been allocated for treatment of coronavirus in the country and work is underway to prepare another 31 thousand, 397 additional ambulances have been purchased, and 409 more vehicles will be delivered to places within a month.
Taking into account international and accumulated experience in Uzbekistan, the strategy and tactics of coronavirus treatment were updated, noted the President. A total of 5,000 physicians and 9,000 nurses, including professors and teachers of medical education institutions and colleges, researchers and retired specialists, were involved in treatment and counseling patients.
– I would like to thank our dedicated doctors who are risking their lives and health, bravely fighting this disease. Today I signed a decree on awarding honorary titles, orders and medals to a group of medical workers, employees of Internal Affairs Agencies, Ministries of Defense, Emergency Situations and the National Guard, who have shown a bright example of courage in protecting the health and preserving the life of the population, curbing the spread of infection, – said the Head of the state.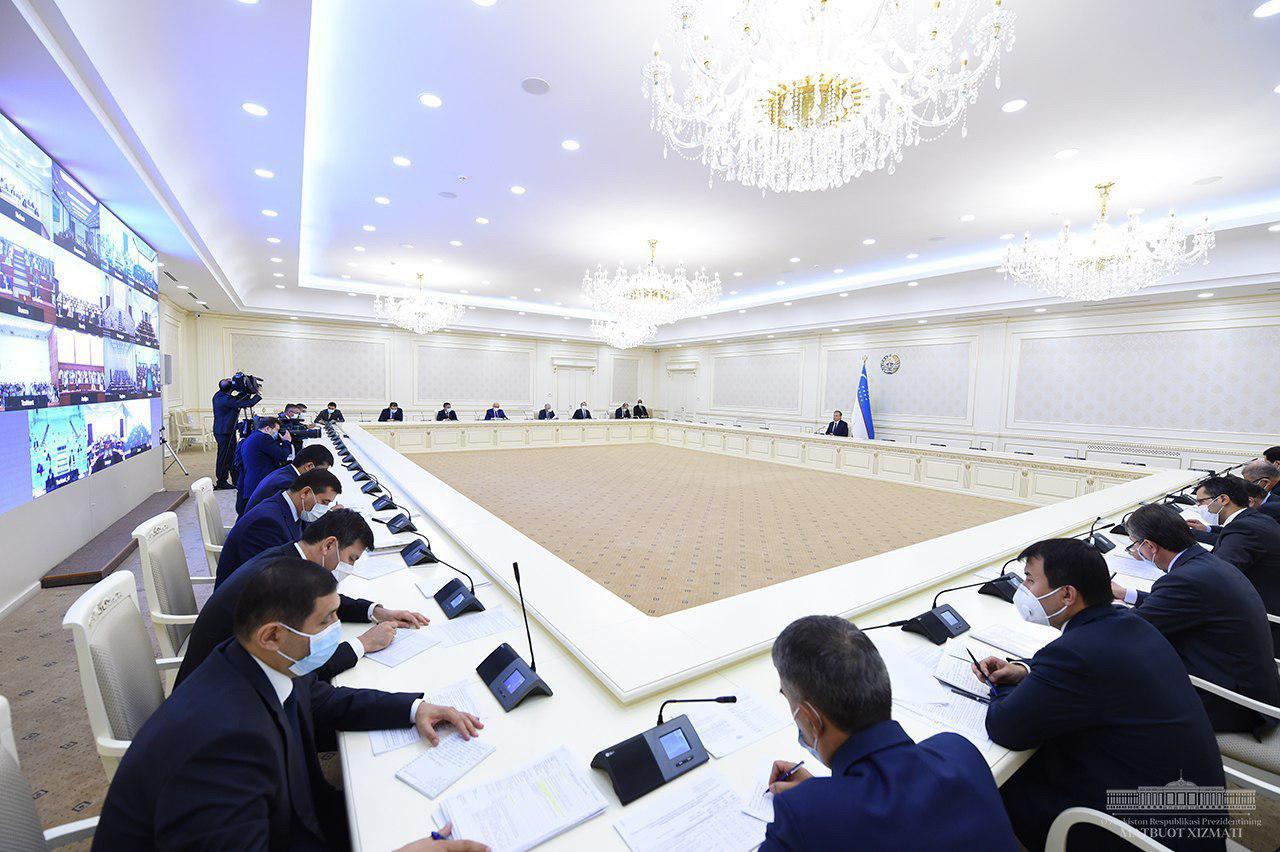 It was emphasized that there will be many more such awards. All medical professionals who work hard in this fight will certainly be rewarded.
– We involve not only our specialists in the fight against infection, but also leading professors and experts from abroad, who consult via videoconferencing, – said Shavkat Mirziyoyev. – Currently, a Professor of Medicine from Germany has arrived in Uzbekistan and is directly involved in treatment of patients. A group of professors from Turkey will arrive today. We are working on attracting the most experienced professors from other countries.
As the President noted, the most important task for today is to break the chain of spreading the virus among the population. To do this, it is necessary to comply with quarantine requirements, strengthen immune system, protect health and fight for the life of every person.
In this regard, as well as in order to slow the spread of the infection and sharply reduce the number of deaths, the President agreed to the proposal of the Republican Special Commission to extend the quarantine restrictions.
At the same time, we should take as a daily rule the idea "Fighting the pandemic is a matter of conscience for each of us", "First of all, I am responsible for my own health, health of my family and children".
Today, managers and employees of khokimiyats, sectors, health and Internal Affairs Bodies, makhalla activists and representatives of older generation are very much responsible for fighting the coronavirus. Because the majority of our population, the elderly, children, and women have to stay at home. These organizations and figures provide primary life needs, appropriate medical and other assistance.
– If we all work together with a sense of responsibility, we will definitely overcome these difficult challenges. I repeat, the most important requirement today is to learn how to live and work in a pandemic, – said President Shavkat Mirziyoyev.