PRESIDENT OF UZBEKISTAN RECEIVED THE PRESIDENT OF THE EUROPEAN BANK FOR RECONSTRUCTION AND DEVELOPMENT
On August 1, the President of the Republic of Uzbekistan Shavkat Mirziyoyev received the President of the European Bank for Reconstruction and Development Suma Chakrabarti.
Warmly welcoming the guest, the Head of the state expressed deep satisfaction with the high dynamics of development of mutually beneficial cooperation between Uzbekistan and the EBRD.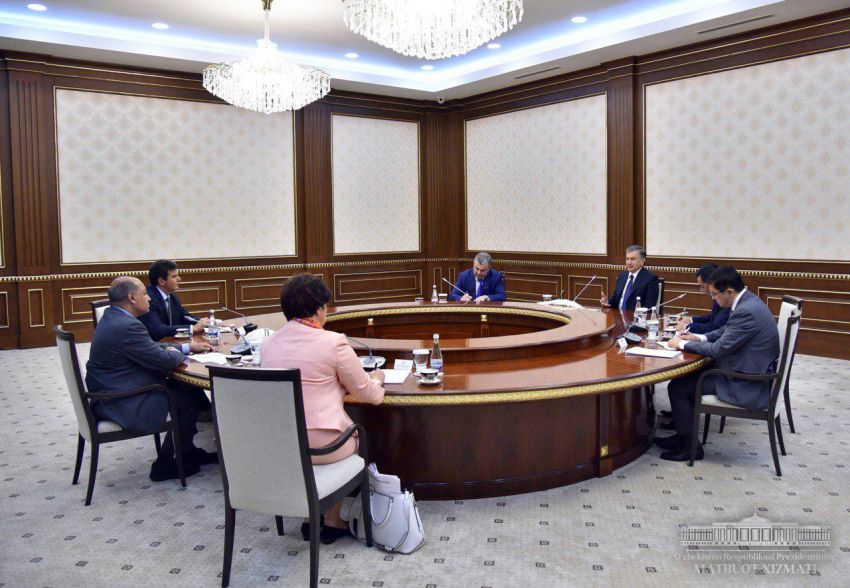 Since the meeting in Tashkent in March last year, the sides have implemented great practical joint work and achieved the first concrete results.
During this period, the bank allocated credit lines worth over $190 million for financing projects to support entrepreneurship in the country. Currently, there are prospective projects under consideration in the areas of development of rural infrastructure and housing construction, modernization of energy facilities and communal services, business support and other areas worth over $1 billion. Of these, in the coming months, it is planned to approve projects worth up to $600 million.
Work is being completed on the EBRD's strategy for cooperation with Uzbekistan, the adoption of which is scheduled for September this year.
In addition, in November last year, the representative office of the bank resumed its activity in Tashkent, it is planned to establish its branches in the regions of the country. EBRD experts took an active part in developing a new order aimed at improving the efficiency of preparation and implementation of investment projects in Uzbekistan with participation of international financial institutions.
Joint work is being carried out on a long-term program of reforming the energy sector and development of renewable energy in Uzbekistan.
Issues of further expansion of mutually beneficial cooperation, filling it with new programs and projects, primarily in the spheres of supporting and development of reform strategies of key industries, enterprises pre-privatization preparation, introduction of public-private partnership mechanisms, integrated development of regions, as well as attracting private investment in the economy were discussed at the meeting.
Suma Chakrabarti highly appreciated the reforms and transformations in the state and social construction, liberalization of the economy that are carried out in Uzbekistan at a qualitatively new stage, which contribute to ensuring the country's sustainable development, raising the level and quality of life of the population, as well as increasing the authority of Uzbekistan in the international arena.
The head of the EBRD emphasized the importance and expressed his strong support for the initiatives of the President of Uzbekistan aimed at deepening mutually beneficial and fruitful regional cooperation, ensuring peace, stability and prosperity in Central Asia.
Expressing deep gratitude to the Head of the state for the warm welcome, he confirmed the readiness of the bank to further expanding partnership with Uzbekistan in order to support the ongoing large-scale reforms in the country, as well as strengthening regional cooperation.