Issues of cluster development are discussed
On February 4, President of the Republic of Uzbekistan Shavkat Mirziyoyev held a meeting on the issues of further development of clusters in agriculture.
Uzbekistan is taking consistent measures to reform agricultural sector, introduce market mechanisms and modern technologies into the sphere. In particular, a cluster system has been established and crops have been diversified to meet modern requirements. As a result, productivity and incomes of agricultural producers are growing. Domestic products of more than 80 types are exported to 66 countries.
Agriculture development strategy in Uzbekistan for 2020-2030 was adopted by the Decree of the Head of the state of October 23, 2019. In accordance with this, fruit-vegetable clusters are organized in order to produce products with high added value. All organizational-legal bases for this are provided for in the relevant resolution of the President of December 11, 2019. Over the past short time, khokimiyats have formed proposals for organization of 86 such clusters.
Information was provided about the planned capacity of clusters, their export potential and amount of attracted investment.
It was noted that clusters will implement 96 projects for organization of processing, storage and drying of products with a capacity of 430 thousand tons. Projects have also been developed to create intensive gardens on 6 thousand hectares and vineyards on about 8 thousand hectares. For the current year, it is planned to export products worth 410 million USD.
The Ministry of Agriculture was instructed to organize activities of clusters, effectively placement of crops based on conclusions of foreign experts, prepare necessary seeds and seedlings in advance, and the Ministry of Finance to provide clusters with working capital.
Uzbekoziqovqatholding pointed out to the need for continuous practical assistance to clusters in issues of finding new markets and exporting products.
Issues of improving activities of cotton-growing clusters and phasing out the state plan for harvesting cotton and grain were also discussed at the meeting.
The Head of the state noted this in his Address to the Oliy Majlis on January 24, 2020. "We will gradually switch to a system of purchasing cotton and grain based on market principles, abolishing the practice of state orders for procurement of these products. If we do not follow this path, our farmers and dehkans will not be able to grow products freely and will not receive expected income, and methods of work of khokims will remain the same", said Shavkat Mirziyoyev.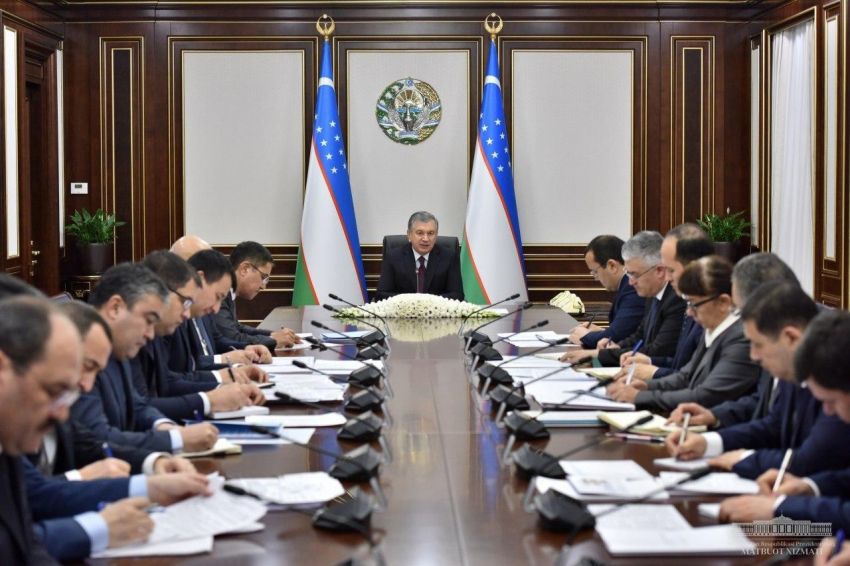 This, along with a sharp reduction in state intervention in the sphere, will put an end to khokim's pursuit of the plan and cases of forced labor.
Cluster system is an important factor in transition to market principles. To date, 73 cotton and textile clusters have been established in Uzbekistan, and last year their share was 73 percent of cotton crop. The average yield in such new formations was 4.1 centners more than in non-cluster lands, and an additional 428 thousand tons of cotton were harvested.
Tasks were set to determine the legal status of clusters, introduce transparent mechanisms for their selection and establish relationship with farmers.
Organizational work has been sharply criticized, including the fact that 27 clusters have been allocated more land for harvesting cotton than they can handle, and some others that have the capacity to harvest 500 thousand tons of cotton fiber have not been allocated enough land.
The President noted that while forming clusters, main criteria should be the planned level of deep processing of raw materials and amount of investment, sufficient funds for paying to farmers.
It was noted that cooperatives with participation of farmers will be formed in cotton fields that are not covered by clusters. Cotton gins will be transferred to farmers for organization of cooperation, and income from added value will be distributed among farmers who are members of the cooperation.
The Ministries of Agriculture and Justice have been tasked with specifically defining the responsibilities of clusters and farmers, and developing mechanisms for regulating their activities.
It was indicated that the current system of financing cotton harvesting is not fully applicable to clusters. In this regard, it was instructed to improve the system of financial support for clusters and farmers.
Measures for this year and for the future on canceling the state order and phase out the procedure for mandatory placement of crops until 2023 were discussed in detail.
Responsible persons' information on the issues discussed at the meeting was heard.